Our Retained Search Services are intended for Client Companies that need to staff senior level jobs, which require specific background and experience, proven track record, address book and leadership talent.
Most talented executives are typically employed and treated well and very rarely put themselves on the market. Therefore motivating them to take on a new challenge that fits their career development requires a proactive and sensitive approach by experienced independent Consultants. This is what retained search services aim to do.
The 3 most common causes of failed recruitment efforts are poor communications, lack of systematic process, and unsatisfactory contract negotiations. A professional Retained Search project using best practices is instrumental in ensuring that communications are of high quality and that processes are orderly.
Our Retained Search projects always involve detailed reference checking which offers substantial guarantees. They give significant support in the salary and contract negotiations. They ensure that the recruitment process is exhaustive, systematic, fairly managed and open to inspection. This is especially relevant nowadays when diligence and good governance are a corporate priority.
Executive Search
Despite a networked society the search for leaders remains one of the biggest challenges of the third millenium
Service Delivery
Our Retained Search Services are offered through a single point of contact to our Client companies. All interviews and assessments are performed by Partner level consultants. Upon being given the mandate to perform such a Search, we perform the following steps to ensure a satisfactory conclusion. We prepare a Position Description that will serve to enter into discussions with target candidates
We start the identification of - and the discussions with - potential candidates while requiring confidentiality
As soon as we have lined up a short list of qualified and interested candidates, we start the evaluation process, consisting of face-to-face interviews and assessments
We will particularly explore the candidates' backgrounds and current employment status
The results of these evaluations are presented in the form of a confidential report on each candidate whom we select for presentation. A short list is prepared to include a concise summary on all candidates
Based on these reports, we will, in conference with executives nominated by the Client, review the short list in order to select the two or three promising profiles, and these candidates are invited for interviews with the Client's representatives; if required they can be asked to make a short presentation on a particular theme (to be decided) to interviewing executives
Optional psychometric analysis is performed on the final candidate(s) and their Personality, Management Competence and likely Behaviour is profiled using established tools is reported confidentially to our Client
We support both our Client and the chosen candidate during the contract negotiations
The Client's decision is communicated to the other candidates
We work to resolve and agree the recruitment of the successful candidate
OUR METHODOLOGY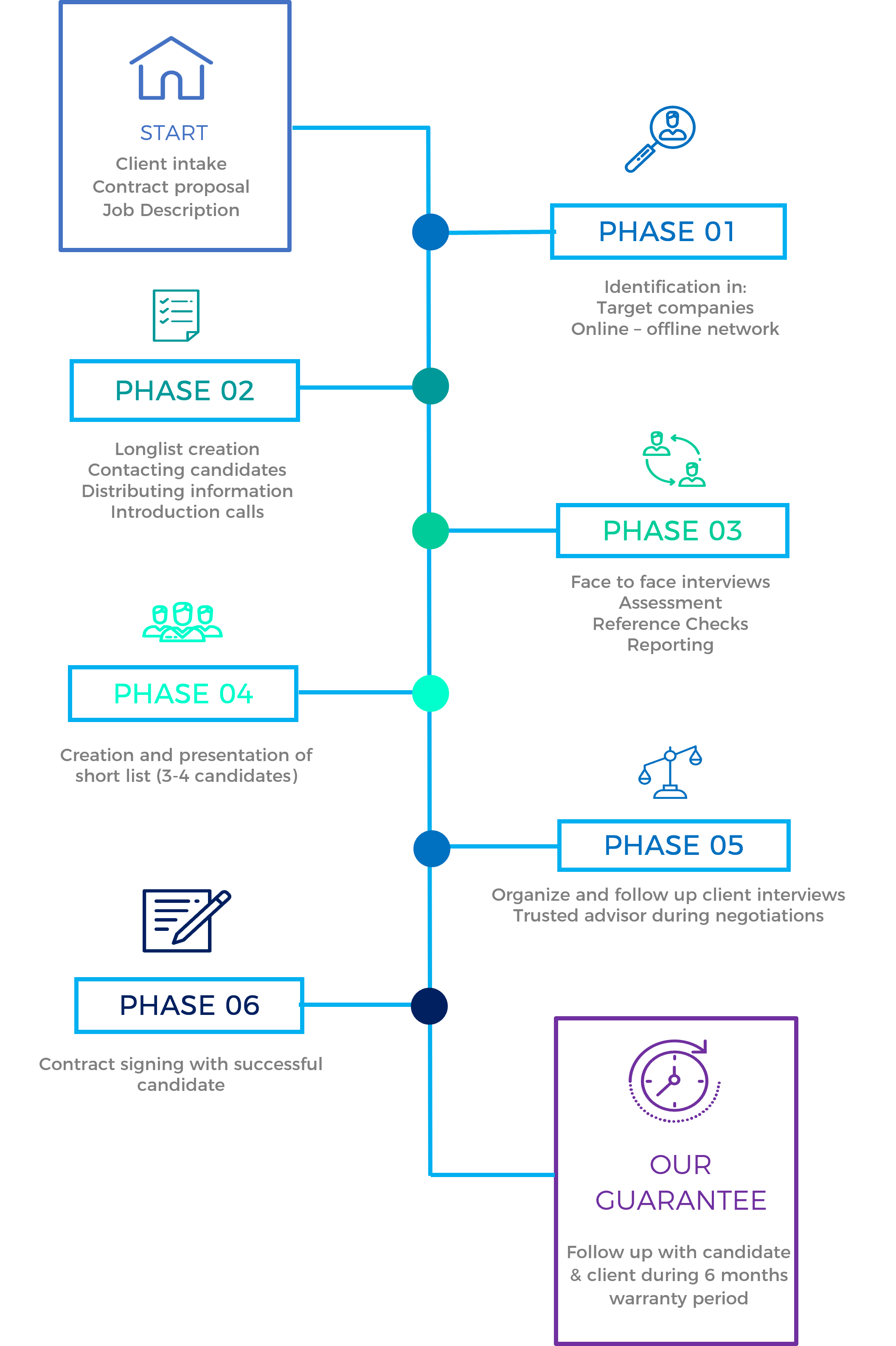 For more information on our current capabilities and to discuss your own requirements register with our Leaders' Circle or contact us via This email address is being protected from spambots. You need JavaScript enabled to view it. or call us at our Headquarters +32 2 663 1600
Copyright Hightech Partners 2023
ABOUT US
Hightech Partners is a leading executive search and transformation consulting firm in Europe specialized in assisting companies in their digital transformations. The team at HTP leverages forward-looking methods such as big data analysis and artificial intelligence to inject the executive search process with smart and fast-paced techniques. This technology, combined with the seasoned leadership of the firm, helps HTP ensure accurate candidate matches that help companies embrace new ways of working.
Hightech Partners supports his international clients from its offices un Brussels, Belgium, and Geneva, Switzerland with local partners situated across the major regions of EMEA. Hightech Partners is founder of ITP Worldwide, an alliance of specialized search and consulting firms in the Technology industry in the US and Asia.
Hightech Partners is a proud member of AESC and commits to the AESC Code of Professional Practice and Standards of Excellence.
To find out more about why using an Excecutive Search accredited firm please click here.
In this blog is well explained the difference between Retained and Contingent Search engagements.